News reports and useful info on tree root removal.
A Triple Win for Peru's Rain Forest
This story is from the 2019 November/December Arbor Day Foundation Newsletter and updated on October 1, 2021. Sign up for the Arbor Day e-news to get updates right to your inbox.
East of the great Andes Mountains and west of the Amazon Basin lies an area of Peru known as the highland jungle. It is a land of steep slopes with fertile soil and temperatures that are ideal for coffee plants. This remarkable place is on the fringe of the massive Amazon rain forest, which is home to some of the most rare and wonderful animals on the planet, including jaguars, sloths, parrots, spider monkeys, pink river dolphins, and macaws.
It is also part of the worldwide crisis stemming from the burning and clearing of rain forest land. In 2020 alone, more than 10 million acres (4.2 million hectares) of primary tropical forest were lost, destroying natural habitat and contributing to climate change.
The Arbor Day Foundation is truly on a mission, and the Café Selva Norte Project in Peru is a good example. This project, which translates to "coffee from the north jungle," is funded largely by individual donor contributions and is making a positive impact that benefits both the environment and the people who live and work in the tropical forest areas.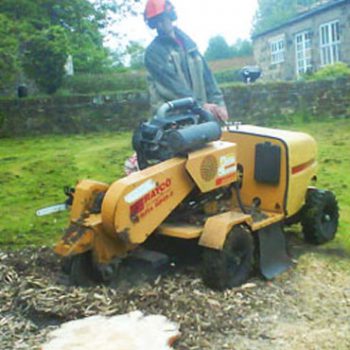 To date, the Arbor Day Foundation has provided funding for 655,800 trees to be planted by farmers who are working toward restoring land previously destroyed by unsustainable agricultural practices and illegal logging. One of the partner organizations the Foundation works with is Ecotierra, which provides technical expertise in agroforestry and marketing as well as a staff familiar with the local language and conditions. Ecotierra reaches out to farmers by working through four local farm cooperatives. Importantly, the project offers three kinds of benefits that bring positive change to families, communities, and the forest.
IMPROVED FARMING PRACTICES
Cooperating farmers receive trees from a selection of species that are grown in local nurseries and matched with specific soil conditions. Some trees provide reforestation and stabilization on erodible slopes. Others offer the opportunity to grow shade-grown coffee. The latter provides canopy that not only results in high-quality coffee, but also restores wildlife habitat, ensures pollination, reduces the need for fertilizers that pollute water, and helps control weeds and crop pests. In short, through the availability of trees to plant and technical assistance and education, short-term agriculture is being replaced with sustainable practices used on family farms.
PROTECTING THE ENVIRONMENT
The Peruvian rain forest is one of the most biodiverse areas remaining in the entire world. A goal of the Café Selva Norte Project is to restore or maintain the rich biodiversity of the region and stop the destructive and water-polluting landslides that result from denuded hillsides. The rain forest has also been called "the lungs of the Earth." This project helps perpetuate that vital contribution.
ECONOMIC BENEFITS
"There is a lot of talk about climate change, but not much being done about it," says Guillaume Nadeau, brand director for Ecotierra. "We are providing a new model (that addresses this issue)."
This aspect of the project places the combined group of farm cooperatives on an international registry. Companies and institutions that want to offset their carbon emissions can then purchase carbon credits based on the trees that are planted by the farmers. Funds raised in this way not only encourage the planting of trees but also help finance the nurseries and technical assistance. This is one more way to improve the lives of the farm families that must depend on the land for their living. Another is the direct marketing of high-quality, shade-grown coffee to purchasers such as the Arbor Day Foundation. ElevaFinca is a program of Ecotierra that works directly with coffee cooperatives in Jaen to ensure farmers are meeting environmental and social impact objectives. The Arbor Day Coffee program sources shade-grown coffee through ElevaFina to ensure farmers are upholding forest protection standards and are given access to education and technical assistance.
You can learn more and order this premium shade-grown coffee at arborday.org/coffee.
"Gracias de la Fundación Arbor Day," says Gilber Carranza Barboza, a member of one of the farm cooperatives served by the Café Selva Norte Project. And thanks, too, to our members and supporters who make this work possible.
This post was originally provided on this site.
I trust that you found the above useful and interesting. Similar content can be found on our blog here: https://treesurgeonsc.co.uk/blog
Let me have your feedback in the comments section below. Let us know what subjects we should write about for you next.