News & useful tips on tree surgeons.
Its product line for demanding tree maintenance and problem tree falling has just gotten a whole lot bigger with the addition of the Seenebogen 728 E-series.
The Seenebogen 728 E is ideal for maintaining trees near highways and walkways because of its extended reach of up to 21 metres and wide variety of attachments. Tree care handlers are called in when chainsaws are no longer effective.
The 728 E tree care handler features a 9.2m compact boom and a 6m telescopic stick that can be swiftly retracted and continuously extended by an additional 2.5m while under load at the touch of a button. The machine, when fully equipped, has a working range of 21 metres. With a support width of about 4m and pneumatic tyres, the equipment is always secure and steady.
Ideal for usage on highways and woodland trails, the 728 E's 3m transport dimension also allows it to be carried swiftly and conveniently by low-loader or, with specific road approval, to travel from location to location as a portable machine. This application demonstrates the machine's advantage over traditional working techniques. Removing trees and bushes from road lanes may be done efficiently and safely with only a few people. There would be less traffic jams with this machine because of its small size and quick functioning. The Seenebogen 728 E eliminates the need for time-consuming traffic barriers and reduces the likelihood of worker injury.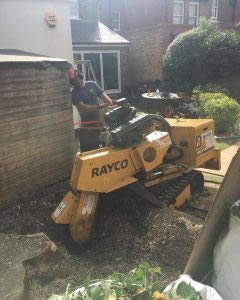 Instead of risky, labor-intensive tree felling, use safe, accurate methods. When it comes to tree maintenance along traffic routes and issue tree felling, the Seenebogen 728 E is the effective and safe alternative to manual labour.
Safety and operator comfort were top priorities during the development of the tree care handler. Maxcab's ergonomic controls and a comfortable seat go hand in hand with its exceptional all-around view from the cab, which can be lifted by 2.70 m and inclined by 30 degrees. Bulletproof glass is used for the machine's windscreens and side windows, as well as the machine's top and front grilles. Cameras give extra support in addition to the expansive cab's panoramic view of the operating area.
A 140 kW Stage V diesel engine provides the required power to reliably drive the two hydraulic circuits. With the 728 E, an independent hydraulic system for the attachments is included as standard, as is it does with other Seenebogen tree care handlers. The machine may be used with a grapple saw, mulcher, cutting unit, and more, depending on its intended application.
This post was first published here.
I hope that you found the article above of help and of interest. Similar content can be found on our blog here: treesurgeonsc.co.uk/
Let me have your feedback below in the comments section. Let us know what topics we should write about for you next.