Stories and important tips on tree surgeons.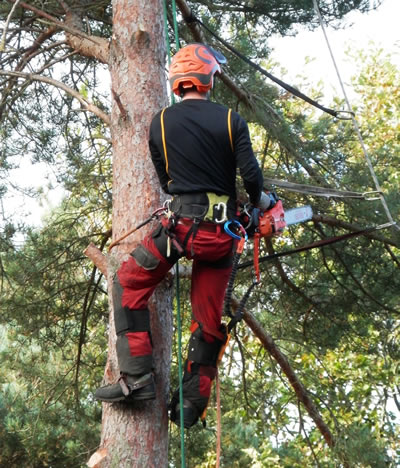 The government has allocated over £15 million to a project to plant 50 million trees in the north of England.
The Northern Forest will link five community forests in the country's north, producing a ring of natural broadleaf and coniferous trees like oaks and spruce and pine.
A 120-mile section of the M62 corridor between Liverpool and Hull will be planted, totaling 25,000 hectares of woodland.
The money is coming from the government's £640 million Nature for Climate fund, with £6 million going to the Northern Forest to support the Woodland Trust's "Grow Back Greener" programme and £8.8 million going to Community Forests in the Northern Forest area through the recently announced "Trees for Climate" programme.
According to the Woodland Trust, which is coordinating the project, it will assist in the planting of another million trees in the coming year.
The Woodland Trust's Tracey Garrett oversees the Smithills Estate near Bolton, where the Northern Forest initially sprouted in 2018.
3 million trees have been planted since then, including 60,000 at Smithills.
She claims that the government's money is being well spent.
"Trees help individuals in a variety of ways,"
"First and foremost, they clean the air, assist in flood prevention, provide jobs, generate revenue in the local economy, and are a critical tool in the fight against climate change."
The Woodland Trust collaborates with The Mersey Forest, City of Trees, White Rose Forest, and Heywoods, all of which are community forests in the north.
""We are entering a very significant period in the delivery of the Northern Forest," Jessica Thompson, director of City of Trees, remarked.
"Not only must this investment give the means to ensure that our landscape is robust to our changing climate, but it must also have a good influence on the lives of people in the north."
England currently has the lowest percentage of forest cover in Europe, at just over 10% compared to a European average of over 35%, while the North of England has the lowest percentage, at just 7.6%.
Infrastructure and construction projects have destroyed trees, and a lack of tree-planting efforts has resulted in few new woodlands sprouting to replace them.
The project's supporters expect that the initiative, which is part of the government's 25-year environment strategy, will aid in meeting climate change emission reduction targets.
This article was originally published here.
I hope that you found the article above of help and interesting. You can find similar content on our blog here: treesurgeonsc.co.uk/blog
Let me have your feedback in the comments section below. Let us know what topics we should write about for you next.