Stories and important information on tree stump removal.
After some of the trees he planted in a Welsh government initiative were in the incorrect position – some by a few inches – a farmer claimed he was fined £15,000.
As part of the Glastir Woodland Creation scheme, David Mills of Lower Chapel, Powys, opted to plant 13,000 trees on 20 acres of his land.
Mr Mills was informed earlier this year that he had deviated from the initial intentions.
The Welsh government stated that it was unable to comment on a case that was currently being appealed.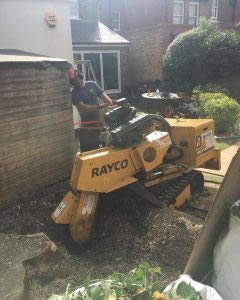 It also stated that it had a "statutory obligation" to enforce the restrictions, but that it was examining the scheme's current rules.
When Mr Mills planted the trees, he said he felt like he had "done his part" to promote biodiversity on his farm and combat climate change.
However, he received a letter from Rural Payments Wales informing him that he had broken initial arrangements, using satellite pictures as evidence, and that he would be fined £15,000.
He stated, " "We'd planted the appropriate amount of trees, and I'd enlisted the help of a Welsh government official to plan and draw up all of the plans. The planting was organised by him, and the fencing was completed by a contractor.
"I simply assumed that everything was in order. It's an absurd circumstance."
He said that he had to borrow money from his son to pay the fee right away since it was accruing high interest, and that he had lost his appeal.
He claimed that Rural Payments Wales informed him that the tree planting changed from the original plan by as little as 10cm in some situations (4in).
Mr Mills continued, "It's been horrible." "I feel duped and defrauded, and it's hypocritical when someone [from the Welsh government] says, "We want to plant more trees," and this is how I'm penalised for doing something I believed was environmentally benign.
"I'm not doing it for any other reason than I care about biodiversity," she says.
Mr Mills believes that farmers should be rewarded for planting and maintaining trees rather than penalised.
"I was expecting a pat on the back," he continued, "but instead I got a £15,000 fine."
The National Farmers' Union (NFU) Cymru, which represents two other farms in similar situations but with considerably greater fines, has backed his appeal.
What does the Welsh government have to say about it?
The programme began in 2015 with the goal of fighting climate change, boosting biodiversity, and creating wildlife habitats.
Farmers were provided funds to plant trees and payments to maintain them for a period of 12 years, as part of plans for a Welsh National Forest.
According to the Welsh government, "On-farm visits or the use of the most recent available aerial photography can be used to verify contracts.
"When the scheme verification reveals that the contract's terms have not been followed, the Welsh government is required by law to follow European Commission guidelines for payment recovery and the imposition of over-declaration fines.
"In order to combat climate change, we are dedicated to assisting farmers in the creation of more woodland."
This article was originally provided on this site.
I hope that you found the above of help or interesting. You can find similar content on our blog: https://treesurgeonsc.co.uk/
Let me have your feedback below in the comments section. Let us know which topics we should cover for you next.